Hello All!
A few IR authors and myself have decided to do a Flash Fiction. This is when we are given a picture of someone or something and have to come up with a very short story (500 words or less) about it. While I can't guarantee I will participate in this every month, I was inspired to do so for this month's image. The picture below reminded me of a character whose story I'm in the beginning stages of writing, so why not make the image about a scene that's been floating around in my head right? Right. The characters for this month's Flash Fiction are Jeremy and Tasha. Also, if you want more Flash Fiction, please check out the other authors who are participating. Their blogs are listed below. Enjoy!
*Tasha and Jeremy*
 I Have Something to Ask You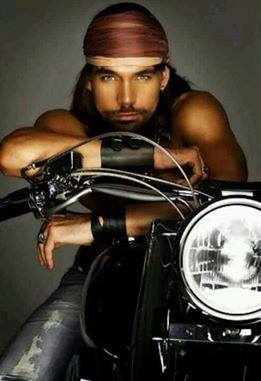 "Okay, Tasha, just breathe," I repeat over and over as I climb out of my Corolla in front of Jeremy's house. His home is beautiful with its stone siding and perfectly manicured lawn. Noting the garage door is open, I decide to walk up the driveway instead of the path leading to the front door. I'm about three-quarters of the way to the garage door entrance, when I look up and halt in my tracks. Standing there in all of his six-foot two, tanned skin, dark-haired glory is the man I came to see. Shirtless. Holy shit is that a nipple piercing? My mouth becomes dry as the Sahara. I let my eyes rummage over his masculine chest and abs covered in an array of tattoos. My feet move on their own, needing to get closer. I've barely noticed that he's stopped what he's doing to silently watch me.
            "What are you doing here?" his gruff voice draws my attention.
            I look up at those piercing green eyes.
            "Uh, I've come to see you," I manage to squeak out.
            He raises a dark eyebrow, as he pulls a rag from the back of his jeans pocket, wiping his hands. That movement draws my attention to his strong hands. I remember what those hands felt like on my skin the other night at the club. I notice the leather wrist cuffs he is still wearing, the same ones he had on that night. I lick my lips, unconsciously, wondering all the things those hands could do to me.
"Well, you've seen me," he says, almost dismissively, as he tosses the rag to the other side of the garage and steps closer to me. "Is that all you wanted?"
"N-no," I answer, clearing my throat. "I-I wanted to ask you something."
His gaze rummages over my entire body, taking in my distressed jeans, off the shoulder t-shirt, and strappy sandals. "So, ask," his voice is low, seductive.
I inhale deeply before pushing a breath out. Here goes. "I want you to teach me. What I saw at the club the other night. I want to know more and I want you to be the one to teach me." There I've said it.
"You want me to be your Dom?" he questions, tilting his head to stare at me.
I nod.
"Why?"
"Because I-I think you can show me…" I trail off.
"Show you what?"
"What it's like to experience pleasure in my own body." Damn, those words were harder to say than I thought.
At that admission Jeremy raises his eyebrows in realization. "You've never had an orgasm?" he asks.
Hearing the words out loud makes me feel foolish, immature and I lower my gaze to the ground, shaking my head.
He turns and walks back over to straddle the motorcycle he was working on, folding his arms and lowering his chin to rest on his forearms, staring at me intently.
"No," he says with finality.
My heart sinks.                
More Flash Fiction Authors:
Adrienne D'nelle Ruvalcaba – https://indigoplume.wordpress.com/
Dariel Raye – http://www.pendarielraye.blogspot.com/